Top Stories
Bills Today | 6 milestones that can be reached in Buffalo's regular season finale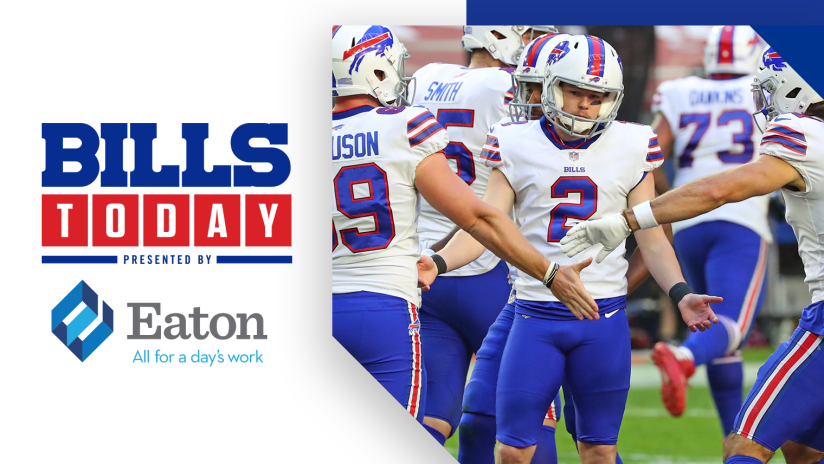 1. Milestones that can be reached the in Bills regular-season finale
Here's a list of six milestones that are within reach for the Bills during today's 2020 regular season finale:
With a win today, the Bills would finish 13-3 and tie the franchise record for wins in a season (also had 13 in 1990 & 1991). The Bills would also be victorious in their final six games of the season and post the best finish to a season ever (won last 4 games in 1973 & 1993)
If the Bills beat the Dolphins, they would record a 6-0 season sweep of their divisional foes for the first time ever in franchise history.
Coach Sean McDermott enters today's game with a career regular season record of 37-26. With a win, he would break a tie with Chuck Knox (37) for third-most wins by a coach in franchise history.
Buffalo enters Week 17 with 445 points scored this season. They would need 14 points to pass the 458 points scored in the 1991 season and establish a new team record.
Josh Allen enters today's game with 4,320 passing yards this season which is the second-most in a single season in franchise history. He needs 40 passing yards to surpass Drew Bledsoe's record of 4,359 passing yards set in 2002.
With eight points from Tyler Bass, he can surpass Steve Christie's single-season record of 140 points set back in 1998.
2. Two key factors that could decide today's week 17 matchup against Miami
NFL Network's analytics expert Cynthia Frelund went through and analyzed five games with serious playoff implications for Week 17. Today's Bills-Dolphins matchup was on her list as Miami is trying to earn one of the last playoff spots in the AFC while Buffalo is trying to lock up the No. 2 seed and the home playoff games that come with that. Here's what Frelund had to say about the Bills regular-season finale:
Miami Dolphins at Buffalo Bills (1 p.m. ET, CBS)
Dolphins' playoff percentage: 62.4
Bills' No. 2 seed percentage: 57.9
In Tua Tagovailoa's first six starts, he averaged 8.8 air yards per attempt, per Next Gen Stats. Over the last two outings, though, Tua has posted a significantly decreased figure of 3.9 air yards per attempt. NGS also shows that, in the past two weeks, the No. 5 overall pick has struggled on passes of 10-plus yards: 2-of-7 (28.6%) for 25 yards (3.6 ypa) and zero touchdowns. That's a stark departure from his production on such throws over his first six starts: 27-of-61 (44.3%) for 484 yards (7.9 ypa), with three touchdowns and an interception.
Buffalo's offense has been clicking to the tune of 6.5 yards per play over the past four weeks, averaging 36.5 points per game (second-best in that span). While Kansas City has already locked up the AFC's top seed (and accompanying bye), the AFC East champion Bills are motivated to win in order to secure the No. 2 seed. So, if the Dolphins want to prevail, their rookie quarterback will likely need to succeed in more than just the very short passing game. (Or they'll need another round of FitzMagic in relief.)
Cynthia's Prediction: Buffalo – 27, Miami – 22